Discover more from The Rose Garden Report
Comprehensive, independent coverage of the Portland Trail Blazers and the NBA from veteran beat reporter Sean Highkin.
Over 4,000 subscribers
Damian Lillard Adds 3-Point Contest Title to Trophy Case Rocking Weber State Jersey
Lillard accomplished one of his remaining career goals in winning the All-Star Saturday Night event.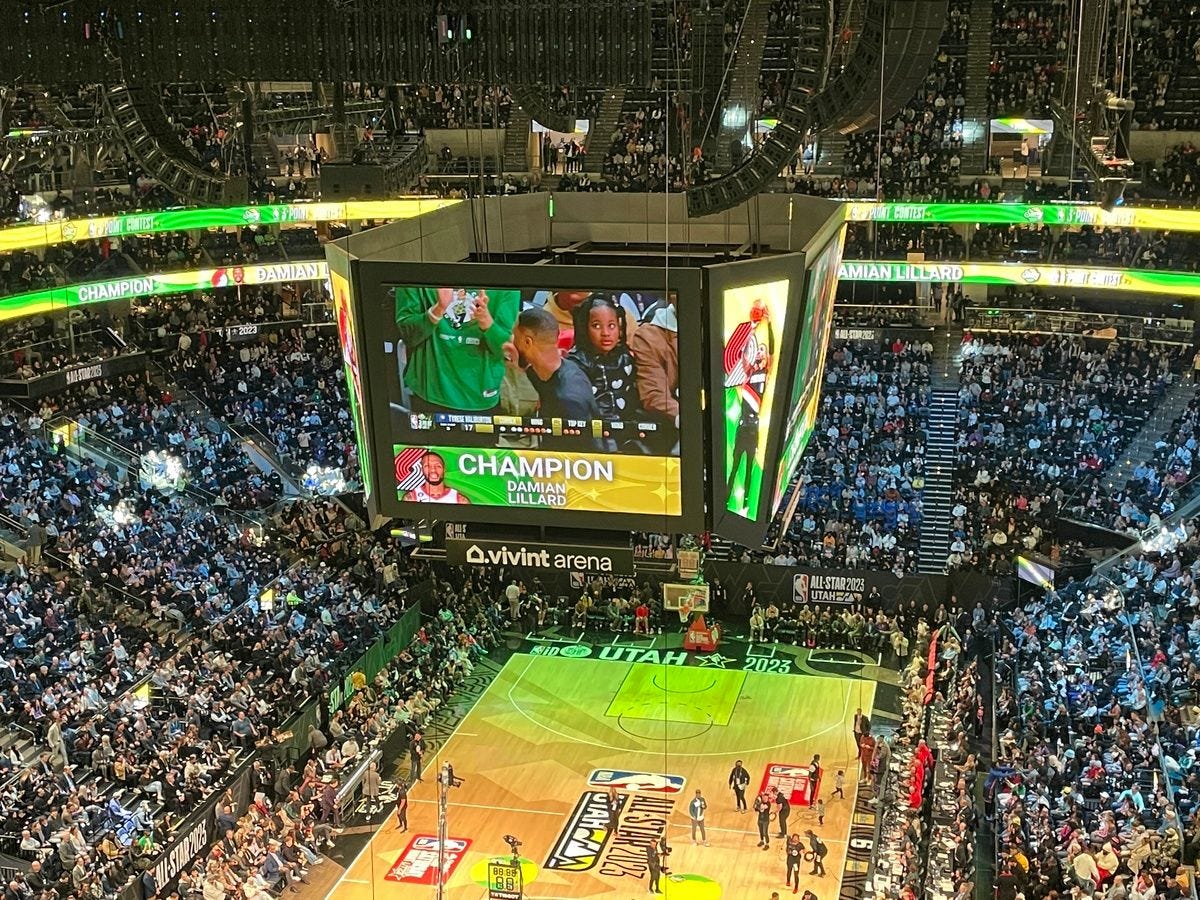 SALT LAKE CITY — This was Damian Lillard's third time doing the 3-Point Shootout on All-Star Saturday Night. He didn't win the first two times, and outside of winning a championship with the Trail Blazers, it was one of his remaining goals in his career.
On Saturday morning at All-Star media day, he said he expected to win. And at the urging of his longtime trainer, Phil Beckner, he told the other seven contestants in the locker room—Utah's Lauri Markkanen, Boston's Jayson Tatum, New York's Julius Randle, Miami's Tyler Herro, Sacramento's Kevin Huerter and Indiana's Tyrese Haliburton and Buddy Hield—that he was going to win it.
"I think [Beckner] wanted me to win the shootout more than I did," Lillard said. "He said, 'You've got to do what Larry Bird did and go into the locker room and say, 'Who's coming in second?' I didn't say that, but I told them I'm winning tonight."
And then he did.
And he did it not only wearing his Weber State uniform at the first All-Star Weekend in Utah in 30 years, but he won it on a buzzer-beater that put him at 26 points, one ahead of the high mark Hield set in the final round.
The Rose Garden Report is a fully independent, reader-supported publication. Purchasing a premium subscription unlocks exclusive content and helps make the coverage of the Portland Trail Blazers the best it can be.
"It got to a point where I was counting in my head," Lillard said. "The first one, I didn't even finish the rack because I was trying to finish my score. This time, I started counting and I lost track. As I got down the stretch of the last two racks, I was counting. I knew I had to make all of them. But I thought I was on track to tie him. It's ironic that it came down to that. I had to tighten it up and come up big to win it. But that's typical from me."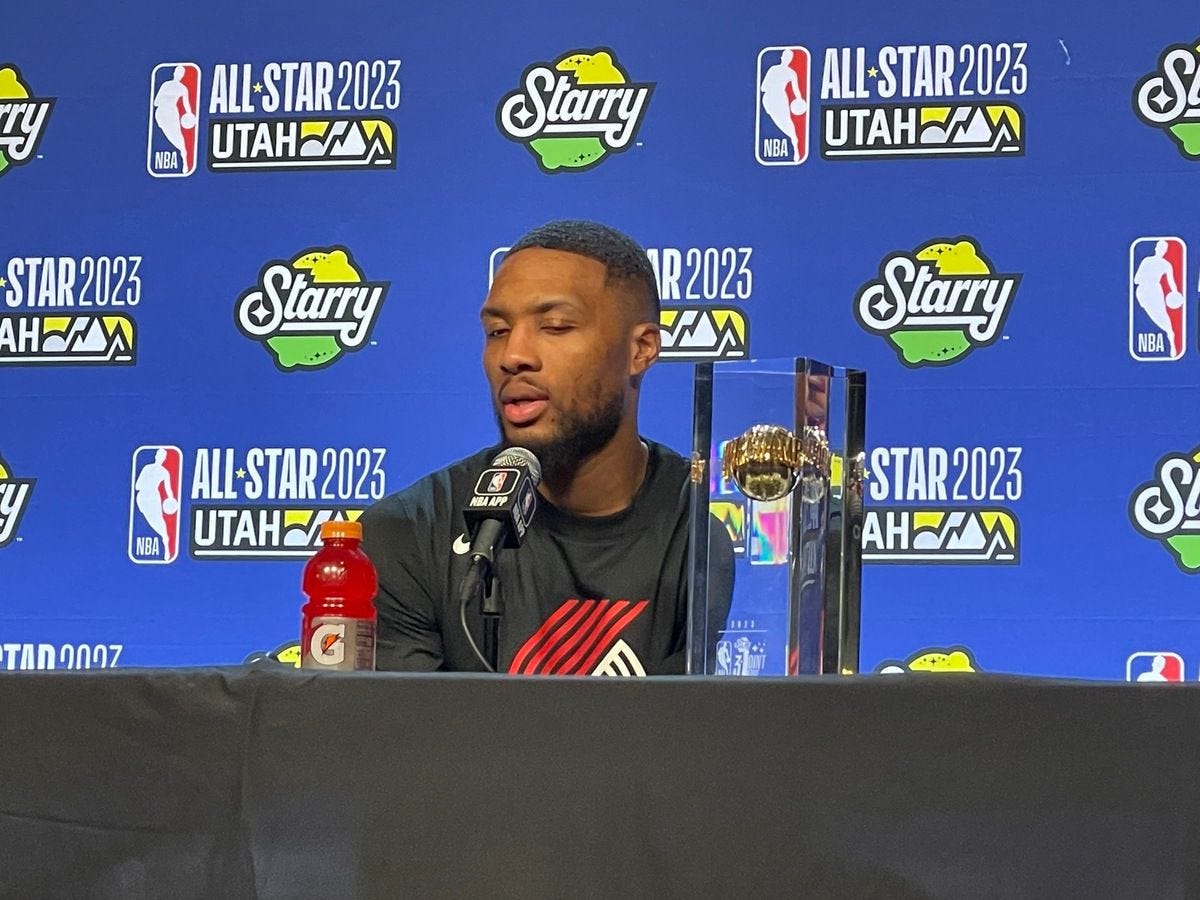 After he accepted the invitation to participate, Lillard and his team began brainstorming on ways to pay tribute to the four years he spent in nearby Ogden. What they settled on was a variation of his No. 1 Weber State jersey with his rap name, "DOLLA," on the back as well as seven stars on the side to mark his seven career All-Star selections.
"I felt like everything just lined up," Lillard said of winning the contest back in Utah. "I was here four years, I went to school here. I have a lot of family, a lot of friends. People that I'm still in touch with. When I touch down here in the summer, whether I'm going back for an alumni game or I'm just going to train, I feel the love. I know that I'm welcome here. It's a second home for me."
An exhibition event at All-Star Weekend doesn't factor into any greatest-ever debates, of which Lillard has been included in much more since passing Clyde Drexler in December for the Blazers' all-time franchise scoring record. But most of the names you'd put on the list of greatest shooters ever have done it. Stephen Curry, Larry Bird, Ray Allen, Dirk Nowitzki and Mark Price all have a 3-point contest title to their name. Lillard knows as well as anyone he isn't the greatest shooter ever, because there's only one person that holds that title. But he views himself as up there with anyone else for second place.
"When we talk about playing the game and the type of threes that get hit and how consistently you make them, how you get defended, all of those things considered, that's what I believe," he said. "After Steph…we all know who and what Steph is as a shooter, definitely. But after that, I'm right in the mix with whoever else comes after that."
After doing it three times and finally winning it, Lillard was non-committal when I asked him if he was retiring on top.
"I feel like I would want to just not do it no more, but as soon as I won it, I want to do it again," he said. "I don't know. Maybe. We'll see."