Discover more from The Rose Garden Report
Comprehensive, independent coverage of the Portland Trail Blazers and the NBA from veteran beat reporter Sean Highkin.
Over 4,000 subscribers
Blazers Sign Second-Round Pick Jabari Walker
Walker impressed at Summer League in Las Vegas.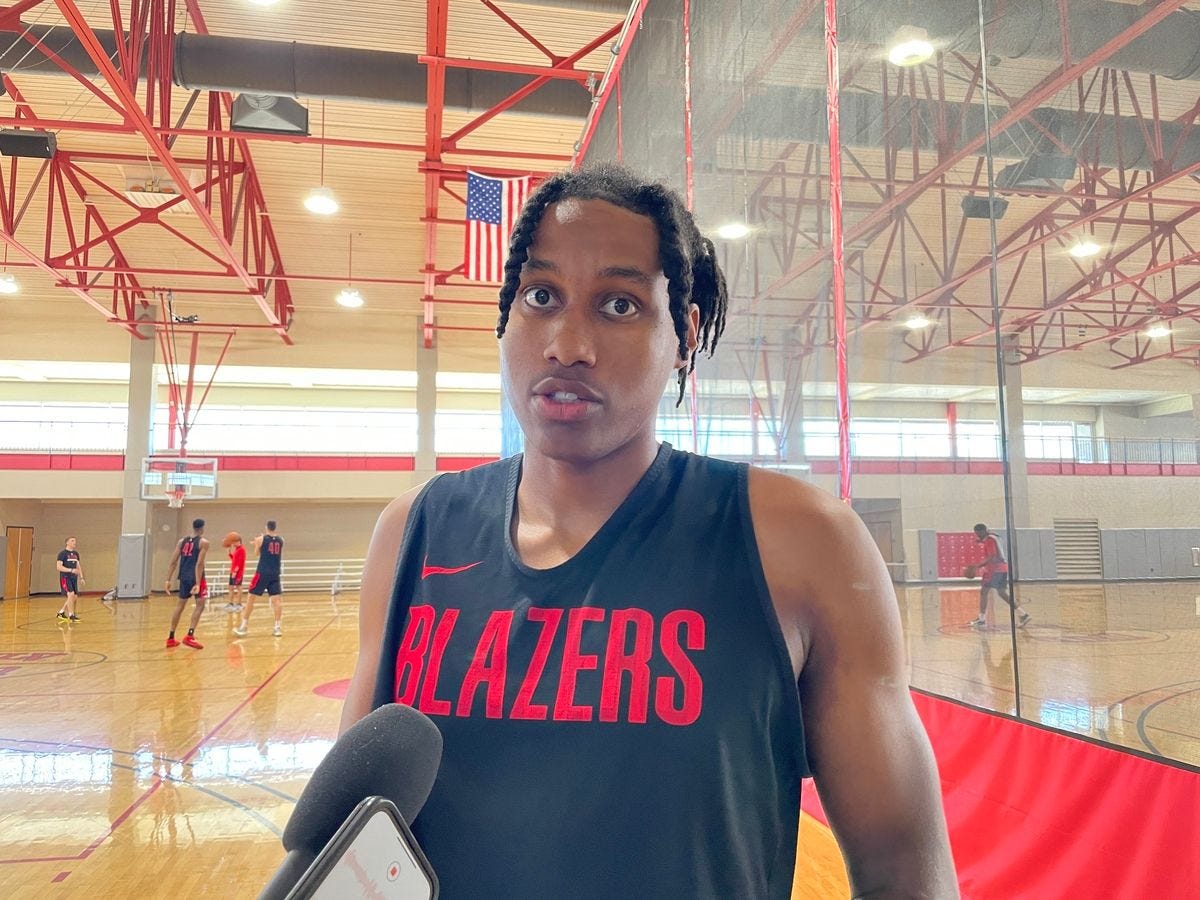 With lottery pick Shaedon Sharpe missing all but the first five minutes of Las Vegas Summer League with a shoulder injury, there was a massive opportunity for the lesser-known second-round pick, Jabari Walker (No. 57 overall) to make a name for himself. With the tournament not even over yet, the Blazers have clearly seen enough.
The team announced Wednesday afternoon that they'd signed Walker to a standard NBA contract, giving him the 15th and final roster spot. It had previously been up in the air whether general manager Joe Cronin would want to use a roster spot on Walker or slot him into the Blazers' still-vacant second two-way opening.
The Blazers held open part of the midlevel exception, most of which they used to sign Gary Payton II as a free agent, in case they decided to go this route with Walker. While there are some financial and tax advantages to the decision to give him a true NBA contract, and that may have played into the decision, it's tough to say he hasn't earned it.

Walker, the son of 10-year NBA journeyman Samaki Walker, has displayed an impressive feel for the game in the early returns of Summer League, getting more comfortable with each game and, maybe most importantly of all, showing a willingness to hustle for rebounds and do dirty work.
"My dad taught me early on that a 'role player' isn't a bad thing," Walker told us after a practice in Las Vegas earlier this week. "People go, 'Oh, he isn't a star.' But you can make a lot of money being a role player. You can be a starter being a role player. It's so important. A lot of people don't embrace that. There's a stigma behind being a role player that a lot of people don't like. So that's going to be an advantage for me."
Early reviews have been strong. My good friend Bryan Kalbrosky of For The Win called him the biggest steal of the draft. Nassir Little agrees.
Nassir Little

@2ez_nassie
The blazers just got away with pure robbery drafting @jabari521  💯
Jul 13, 2022
2.13K Likes   141 Retweets   32 Replies
It's too early to say where exactly Walker will fit in what is suddenly a crowded forward rotation. But the Blazers were impressed enough with his Summer League to give him a standard contract rather than a two-way. Don't be shocked if he earns real minutes by the end of his rookie season.