Discover more from The Rose Garden Report
Comprehensive, independent coverage of the Portland Trail Blazers and the NBA from veteran beat reporter Sean Highkin.
Over 4,000 subscribers
Blazers Release 2022-23 Regular-Season Schedule
Thoughts on the Blazers' schedule, plus some other stuff.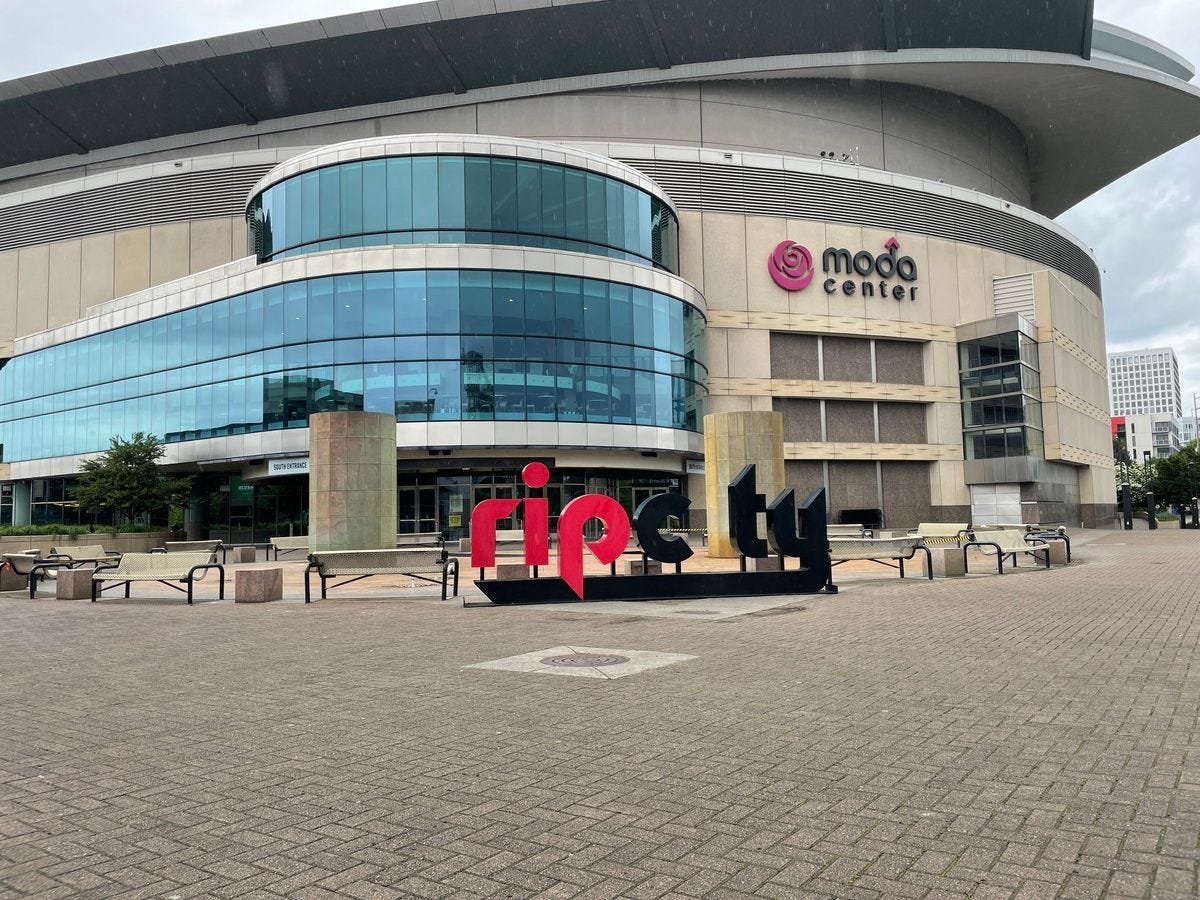 Somehow, the NBA's regular-season schedule release has become a multi-day event. The league unveiled the full schedule this afternoon, but bits and pieces of it have been trickling out for a full week. First, the Christmas Day schedule, then certain marquee matchups—the dates of the Warriors-Celtics Finals rematches, ring night, that sort of thing. We're in such a news desert in mid-August that tweeting out the date of a regular-season game is guaranteed to get a few hundred retweets. Erik and I call this "the grift."
My guy Dan Woike from the Los Angeles Times has one of my favorite running Twitter bits every year—he clearly gets the schedule ahead of the release, and instead of leaking when the Lakers are playing the Warriors or something "consequential" like that, he'll reveal totally random and meaningless regular-season matchups. It cracks me up every summer when he does it.
Dan Woike

@DanWoikeSports
Huge return to San Antonio for longtime Spurs Derrick White and Danilo Gallinari when Boston plays the Spurs on Jan. 7
Aug 16, 2022
12 Likes   3 Retweets   2 Replies
Dan Woike

@DanWoikeSports
Weather you're ready or not, a storm is brewing when the Heat and the Thunder meet Dec. 14 in OKC and Jan. 10 in Miami. Please credit me, aggregators.
Aug 16, 2022
19 Likes   2 Retweets   5 Replies
I understand the hype around the schedule release a lot more in the NFL, where every team doesn't play every other team every year and there's a lot more riding on whether a team has an "easy" or "hard" schedule. But in the NBA, you're going to play all 29 other teams. Some teams may have a couple more back-to-backs than others, and they may have extended road trips at specific times in the calendar that affect the rhythm of the season. But by and large, it all evens out over the course of 82 games.
As someone who does this for work, I like getting the schedule because it helps me plan. I like knowing which dates I need to cover a game and which dates I can make other plans. As a fan of the league, I like knowing when Giannis, Luka, Zion, Ja and other guys are coming to Portland so I can watch them in person. If I need a player or coach on a visiting team for a story, I like knowing when they'll be in town so I can talk to them. I have friends covering most of the other teams, and I like knowing when they'll be here to catch up.
Anyway, the Blazers' schedule is out. Here are some thoughts I have upon first glance:
There are three separate six-game road trips on the schedule: one in December that starts with two games in Phoenix and goes through the southeast before wrapping up in Dallas; one in December that includes all three Texas teams, two games in Oklahoma City and one in Denver; and another eastern swing in early March. The first of those trips looks to be the toughest, opponent-wise, with the Suns (twice), Heat, Pelicans and Mavs. The rule with any long road trip is to try to go .500.

The Nets come to Portland on Nov. 17, relatively early in the season. I have no idea whether Kevin Durant or Kyrie Irving will still be on their roster or not, but if their situation drags out into the season, that game is only a month in, so it's possible. Or Durant could be on the roster but not playing. When Brooklyn came here last season, it was right after the team started letting Irving play road games. It should be an eventful night regardless.

Two of the Blazers' three matchups against the Grizzlies come after Jaren Jackson Jr. will probably be back from his foot surgery.

As far as division rivals (this stuff still matters for seeding tiebreakers), the Blazers get done with Denver relatively quickly, with the last matchup coming on Jan. 17. Three of their four games against Minnesota will be done by early January. Utah and Oklahoma City are more spread-out, but those teams are likely going to be tanking regardless.

The Blazers have a pretty tough final month of the season, eight road games and (by my count) 14 of those 17 games coming against teams that are, as of now, entering the season with playoff aspirations. Who knows which of those teams will have thrown in the towel by then, so it's useless to analyze this stuff in August when these games don't happen until March or April, but in that stretch, only Oklahoma City, Utah and San Antonio are teams we already know will be playing for the lottery.

The final game of the season is at home against the Warriors, which might be able to be penciled in as a win. Golden State will probably have their playoff seed locked up by then, and will almost certainly be sitting Stephen Curry, Klay Thompson and Draymond Green. With Portland more in the play-in/lower half of the West playoff picture range, they'll probably have something to play for that day.

Teams/players I'm most looking forward to seeing in person: Denver with a healthy Michael Porter Jr. and Jamal Murray (Oct. 24 and Dec. 8), the new-look Timberwolves (Dec. 10 and 12), the Clippers with Kawhi Leonard returning (Nov. 29 and March 19), the Cavs (Jan. 12), Chet Holmgren and the Thunder (Feb. 10 and March 26) and the Pelicans (March 1 and 27).

Not counting NBA TV, the Blazers only have three national TV games, all at home: against Memphis on Nov. 2 (ESPN), against the Clippers on Nov. 29 (TNT), against the Pelicans on March 1 (ESPN). They'd probably have more than that if their biggest box-office draw (Damian Lillard) hadn't missed essentially a full season leading to a sixth-worst finish in the league. If he's as good coming off the ab injury as he thinks he'll be, they'll likely get flexed into a few more as the season goes on.
Stray thoughts...
Yesterday, I published a new interview with Nassir Little in which he talked in-depth about his rehab from shoulder surgery and his high expectations for the season. We talked for nearly an hour, and got into way more stuff than I could include without pushing the piece to an absurd length. I'm going to put more of it out next week, so paid subscribers be on the lookout for that. And if you're not a paid subscriber, I once again encourage you to become one. Once it gets to training camp and the season and we have more regular access to players and coaches, there's going to be a lot more exclusive content like this to make it worth your while.

In early September, there will be two Blazers connections in international tournaments. Edniesha Curry was announced a few days ago as the head coach of the Virgin Islands men's national team for the upcoming AmeriCup tournament. This is a terrific opportunity for Curry, who is very well-thought of within the Blazers' organization after joining Chauncey Billups' staff last season, her first NBA coaching job.

Additionally, Jusuf Nurkic is on the EuroBasket roster for Bosnia and Herzegovina. I haven't been able to get 100 percent clarity on whether he'll actually be playing in the tournament or if he's just on the national team roster to practice, but did play in a recent friendly, for what that's worth. Either way, Giannis Antetokounmpo is playing for Greece and Luka Doncic is playing for Slovenia, so EuroBasket should be worth watching for NBA fans.

Highly recommend my friend Katie Heindl's recent profile of former Blazers assistant (and, briefly, interim head coach) Kaleb Canales, who is currently coaching the Mexican national team. I've known Kaleb for years and he's one of the nicest guys in the NBA. It would be great to see him get another shot in the league.

I don't know much about college recruiting and I certainly won't pretend I've watched much Bronny James high-school tape, but if he actually commits to Oregon as is rumored, I'll be making some trips down to Eugene. And if LeBron James' son is playing at Oregon around the same time Phil Knight buys the Blazers, with James' brand-new extension with the Lakers allowing him to opt out following Bronny's freshman season...I'm just pointing some stuff out here. Who can say if these things are connected?