Discover more from The Rose Garden Report
Comprehensive, independent coverage of the Portland Trail Blazers and the NBA from veteran beat reporter Sean Highkin.
Over 4,000 subscribers
Anfernee Simons' Scoring Explosion Keeps Trail Blazers Undefeated
The Blazers blew out the Nuggets at home on the back of Simons' outburst.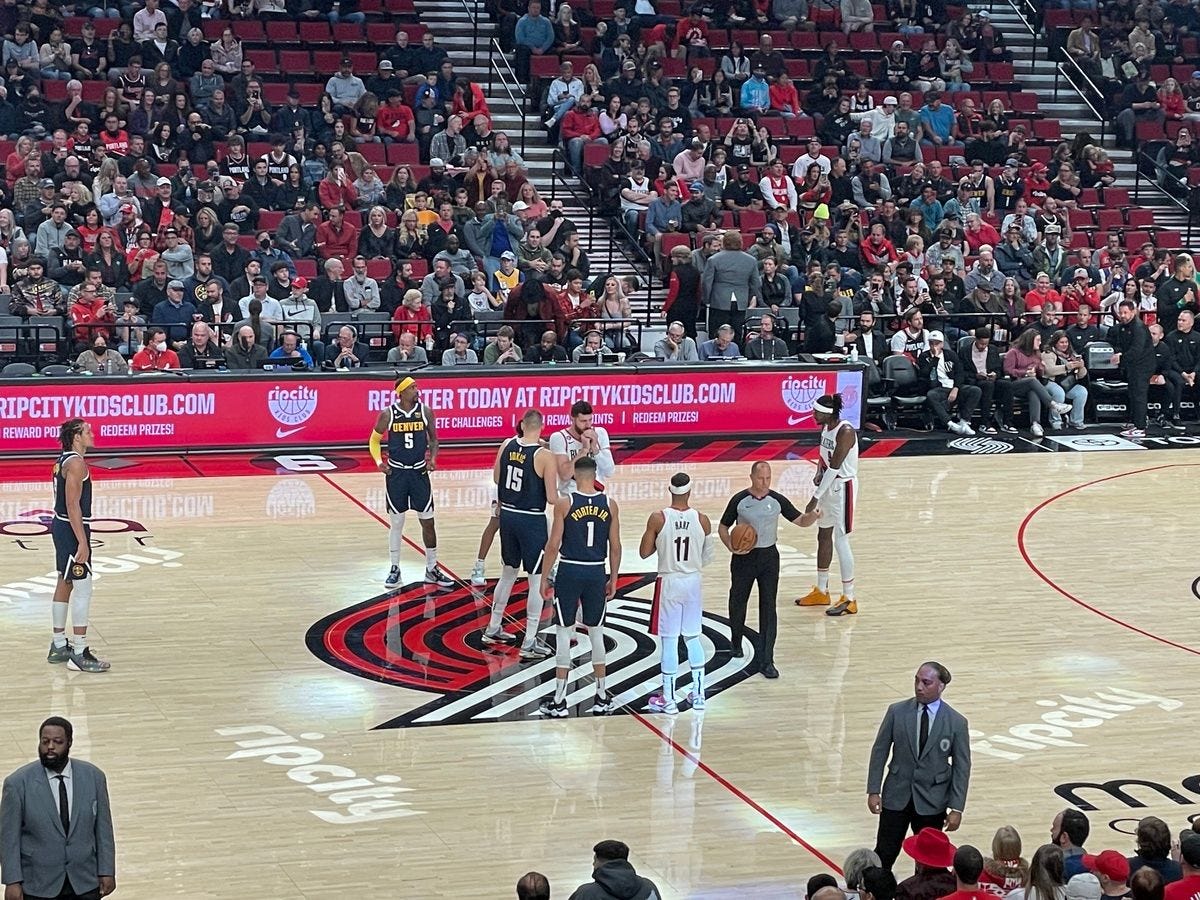 The game-winning shot in overtime of Friday's home opener against the Suns belonged to Anfernee Simons, but it came at the conclusion of a 5-for-17 shooting night. He had the same line on Sunday in a road win against the Lakers. So what happened on Monday was overdue.
Even before the third quarter in which he scored half of the Trail Blazers' 44 points to break open what ended up being an absolutely shocking blowout win over the Nuggets, Simons was starting to see a few go in early. It was Damian Lillard, fresh off winning Western Conference Player of the Week, that was keeping it close in the first half. Then Simons hit six three-pointers in the third, a hot streak he needed in the worst way after his shooting struggles in the previous two games.
"Everybody's been telling me to keep shooting over the past couple days," Simons said after the game. "Tonight, everybody's looking for me after they see me hit two or three in a row. It speaks to how well-connected we are. If somebody's hot, we find a way to get them the ball. I guess I was hot."
The Rose Garden Report is a fully independent, reader-supported publication. Purchasing a premium subscription unlocks exclusive content and helps make the coverage of the Portland Trail Blazers the best it can be.
At least once or twice a week, a player who isn't a household name goes off like this and sets off a firestorm of #LeaguePassAlert tweets. Tonight, Simons was that guy. Even LeBron James took notice. Chauncey Billups kept Simons in the game well past his usual substitution in the third—how could you take him out when he's doing this? And Lillard was more than happy to feed him.
"I was just kind of aware that Ant was getting opportunities early in the game, but he wasn't getting a lot of touches," Lillard said. "And so in the third quarter, I had that on my mind. Once he made one, he made two. A couple times, I called a play for him but most of the time I was just trying to find where he was and allow him to just keep it going. He didn't need much space or need us to make plays for him. He was just raising up over dudes and making shots. I didn't really do anything other than have an awareness that he's rolling and let him roll."
These kinds of nights are what the Blazers envisioned when they re-signed Simons in July to a four-year, $100 million contract. That they won the first three games with their second scoring option shooting as poorly as he did speaks to the "connectivity" Billups and the organization have preached since the start of camp.
"After the fourth one, I shot a top-of-the-key one where I fell down and I was like, 'I guess it was one of those nights,'" Simons said. "I shot that one blindly. It was like a blur. After that, I was trying to get as many up as I can. It was fun, especially after struggling shooting in the last game. That's the way the game works sometimes. I needed to see the ball go in a few times."
Lillard has had many of these nights in his career. Hell, he's had two in the past 72 hours with back-to-back 41-point games against the Suns and Lakers. He's also seen CJ McCollum do it plenty of times. To him, Simons' outburst on Tuesday night felt like watching McCollum's career night in 2018, when he scored 50 points in three quarters against the Bulls.
"It felt like the crowd was about to fall on the court," Lillard said. "You could see people standing up and going crazy. I know what it feels like to be in it as the person. You get tired, because the team is trying to stop you and keep hunting the next shot. That's what it felt like. But today, it was like, 'This dude is hot.' It didn't matter if they were underneath him. It's just a matter of when he's going to get tired. Because he ain't gonna miss one if he's got his legs."
If Simons just needed one night like this to snap himself out of that funk, it opens up a world of possibilities. As it is, the Blazers are unexpectedly one of two undefeated teams left in the league—the mighty Utah Jazz finally lost Tuesday, leaving just Portland and Milwaukee unbeaten. At some point, they're going to lose a game. It could happen Wednesday against Miami, or on their upcoming six-game road trip. But gutting out close ones against teams on Phoenix's level, and then blowing out another would-be contender with the two-time reigning MVP on the other side, is turning the heads of the entire league. And the Blazers don't think it's a fluke.
"Our understanding for what we're trying to do is getting better," Lillard said. "The best thing about it is that it feels very sustainable offensively. We're not leaning on [hot shooting] to win games. Collectively, we've just been able to get it done."