Discover more from The Rose Garden Report
Comprehensive, independent coverage of the Portland Trail Blazers and the NBA from veteran beat reporter Sean Highkin.
Over 4,000 subscribers
'It's Always Going to Be Love': Jusuf Nurkic, Nassir Little Return to Portland After Blockbuster Trade
The Suns are set to play the Trail Blazers in a preseason game that will mark the return of Nurkic and Little to Portland.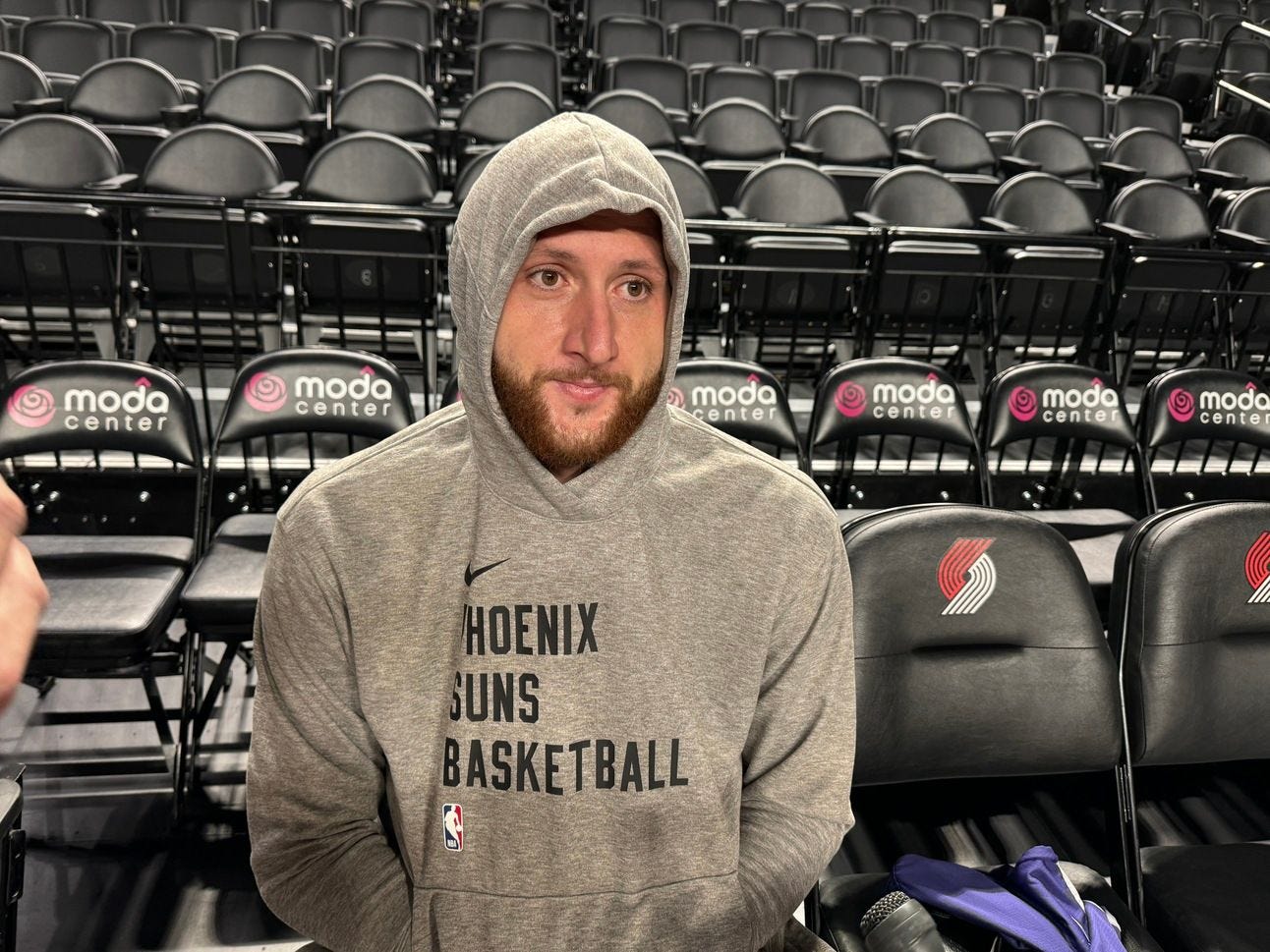 PORTLAND, Ore. — It first set in for Jusuf Nurkic on Wednesday night, when the Phoenix Suns got to Portland and headed to the Nines. The downtown hotel is typically where all visiting teams stay, but Nurkic hadn't been there since he was with the Nuggets early in his career.
"It really triggered me," Nurkic said at Suns shootaround on Thursday morning, ahead of his first preseason game at the Moda Center as a visiting player. "I didn't want to sleep there. I wanted to sleep in my own bed in my house."
Nurkic is now in the process of selling his Portland-area home and moving his belongings, and his cats, to Phoenix in the aftermath of the Sept. 28 trade that sent him to the Suns along with Nassir Little and Keon Johnson, and Damian Lillard to Milwaukee. He joked that he offered to give Lillard all of his winter coats, which will undoubtedly be of more use in Wisconsin than Arizona, although the 7-footer's clothes might be a little big for Lillard to fit in.
"It's been amazing," Nurkic said of his new opportunity with the title-contending Suns. "I'm spoiled right now with a lot of sun there. But I'm grateful for the opportunity and for what me and my agent asked for from the franchise. They were transparent from day one and we ended with a lot of respect and love. Nothing but positive and respectful from my end."
Nurkic had been preparing for the possibility he'd be moved since Lillard requested a trade to Miami on July 1. The conventional wisdom was that Blazers general manager Joe Cronin would be motivated to unload his salary as part of a rebuilding effort, as well as needing contracts to move in a blockbuster trade.
Little's inclusion, however, came as a surprise.
"I was caught off-guard," Little said. "We were in the gym getting some work in, and they just grabbed me out of the drill and let me know on the spot [about the trade]. I was pretty shocked and overwhelmed by it all. But I understand it's part of what goes on."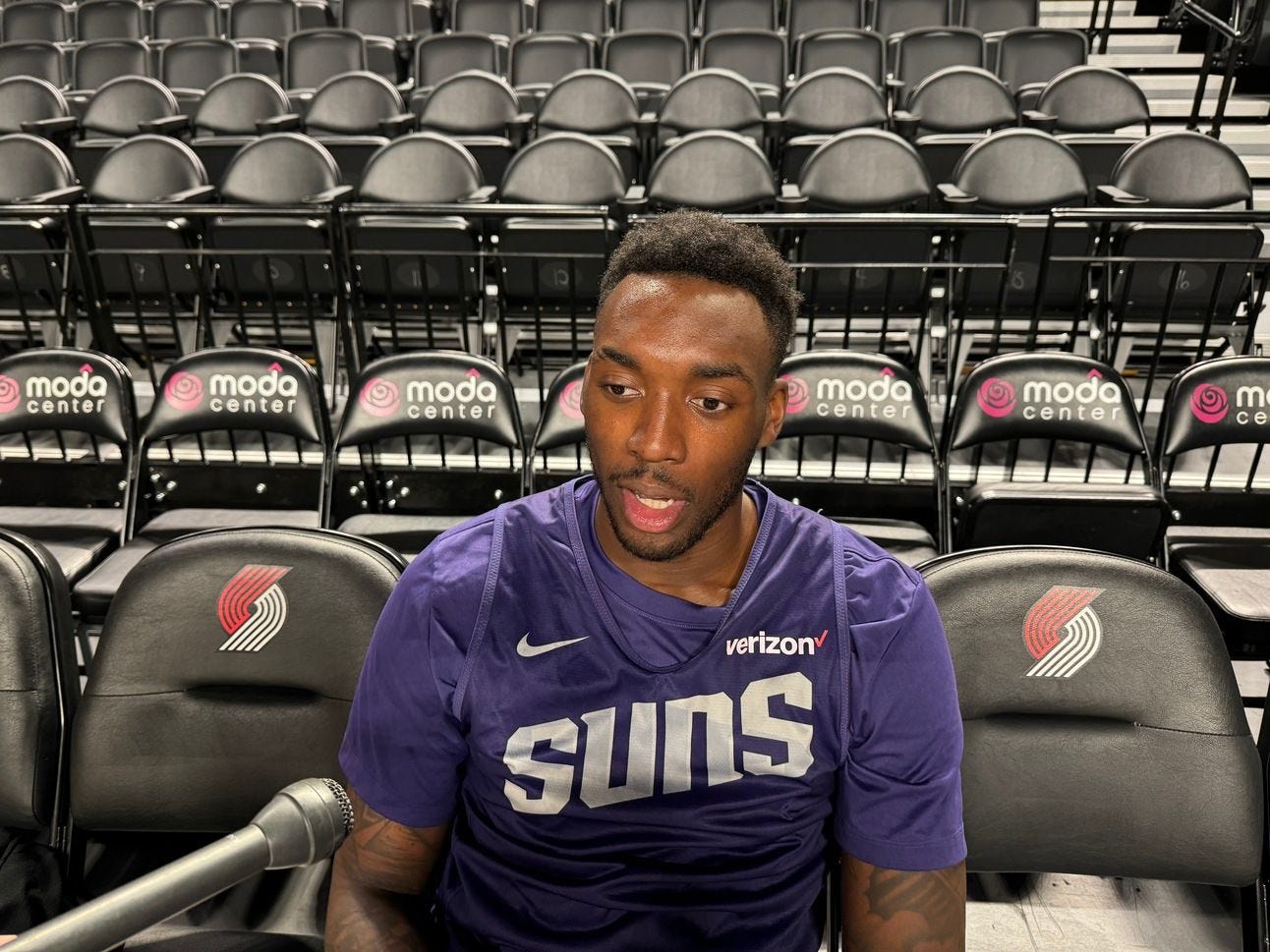 Little, the Blazers' first-round pick in the 2019 draft, showed promise at times during his four years in Portland but couldn't stay healthy for a consistent period of time. He signed a four-year, $28 million extension before last season, which gave him long-term security—but also made him a prime candidate to be included in a big trade that needed salaries to move around.
The deal happening so close to the start of training camp made the transition more difficult.
"It was a different experience," Little said. "It goes so fast. You don't have time to really process anything. I found out on Wednesday, and then on Thursday I'm in Phoenix. Friday and Saturday we did our physicals, and then media day on Monday. It happened super fast."
Despite getting a dose of the business of the NBA, both Nurkic and Little look back positively on their time in Portland.
"I loved every second," Nurkic said. "I enjoyed my eight years here through the ups and downs, injuries and wins and whatever. There are so many people that I love and care about here in this organization and the city. It's always going to be love when I come here, regardless of what some people think."
Just like Lillard ended up in a great basketball situation in Milwaukee, both Nurkic and Little came out of the trade in an ideal spot, getting to be supporting players behind Kevin Durant, Devin Booker and Bradley Beal. The baggage of their injuries and up-and-down play in Portland is behind them.
"Every time you go into a new situation, you always have an opportunity to reinsert yourself and be who you are," Little said. "But for me, I've always been myself so I don't really see a need to reinvent yourself. I'm just gonna be who I am and do what I can to help the Suns win."
"It feels unreal," Nurkic said. "I was running the floor and seeing KD and Beal in the corner with Book. This isn't fair. I know how much power we have, and the whole team is just a lot of shooting. For me, it will be easy to play and not think about my shots. You take for granted sometimes, but it's like, 'whoa.' Personally, I love it. But it will take some time for me to realize that every game we play, it will be packed arenas and everybody wants to see us. But at the same time, I love it."