Discover more from The Rose Garden Report
Comprehensive, independent coverage of the Portland Trail Blazers and the NBA from veteran beat reporter Sean Highkin.
Over 4,000 subscribers
Sunday Thoughts: Damian Lillard Recruits Kevin Durant Via Jersey Swap
No, KD is not going to end up in Portland. But it's good that the Blazers are thinking big. Plus, thoughts on the first week of this venture.
Action Network

@ActionNetworkHQ
KD and Dame teaming up? 👀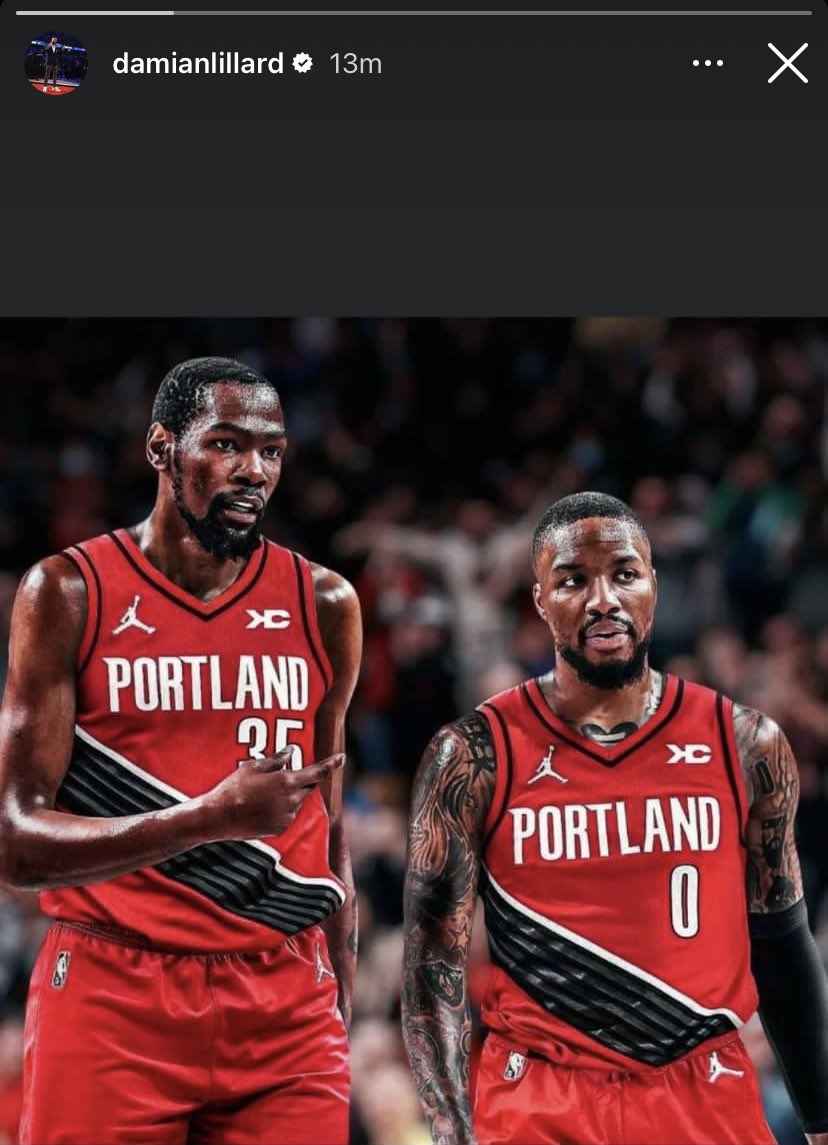 Jun 25, 2022
92 Likes   16 Retweets   5 Replies
Clearly, Damian Lillard isn't done recruiting his former Olympic teammates to come to Portland after last week's trade for Jerami Grant.
Rumors are swirling that Kevin Durant might be becoming disillusioned with the Nets for their very understandable stance of being basically done with Kyrie Irving. On Sunday, Lillard offered him a life raft in the form of a Photoshop of the two of them together in Blazers jerseys, which he shared on his Instagram story. Jusuf Nurkic also tweeted the photo, which is pretty amusing considering Nurkic would almost certainly be one of the players shipped out in a hypothetical Durant trade.
The hour on Twitter after these posts was pretty fun. Remember, not only did Lillard and Durant play together in Tokyo last summer, but Durant's first national team experience was at the 2010 FIBA World Championships, when he was a 21-year-old superstar in the making and one of the elder statesmen on the roster was…Chauncey Billups. Also, Durant is one of the faces of Nike, and there's a good chance Phil Knight may buy the team within the next year.
Do I think this is actually going to happen? No. Even if Durant hypothetically comes on the trade block, 29 teams will be calling Brooklyn with offers, and I don't see the best package Portland can put together (meaning, literally every good player on the roster outside of Lillard and all the future picks they can trade) beating what another team could give them. Durant will be 34 at the start of next season, but he's still Kevin Durant. Every team in the league would be crazy not to try to get him.
I will say this, though: if it actually gets to the point where Sean Marks starts fielding offers for Durant, the Blazers absolutely will call and make an honest effort at it. That's not something that could always be said. There was a time in the very recent past when the general manager would constantly beat fans over the head with the talking point that stars just don't want to come to Portland, used not as a challenge to himself to make them want to, but as an excuse not to try.
By all measures so far, that's not how the front office under Joe Cronin is going to operate.
"I'm confident that we can be competitive with free agents," Cronin said in his press conference after the trade deadline in February. "With Chauncey Billups, Damian Lillard and myself, we can get into meetings and we're not afraid to go after players."
Whoever they do or don't get, that's the attitude fans should want their team's decision-makers to have, no matter what size of market the team is in. It's true that Portland isn't Los Angeles, New York or Miami when it comes to cities that typically appeal to multimillionaire star athletes. But Lillard has stayed here, and Carmelo Anthony re-signed before the 2020-21 season despite having other offers.
If Durant wants a little more stability than what's gone on in Brooklyn, pairing with Lillard isn't the worst idea in the world. Think about how good he and Irving were together on the rare occasions when Irving actually played, and now imagine him with someone of that caliber who's going to show up to work. That team could be pretty good.
You have to at least be willing to shoot your shot if a player like Durant comes available. Whether or not he will, I don't know. It all depends on Irving, and good luck to anyone trying to predict hour-to-hour what he's thinking. This should be a fun week.
Stray thoughts
If you're reading from your email inbox, I can't thank you enough for signing up so early into this venture. I've halfway toyed with the idea of doing something like this for a few years but always stopped short of actually making the jump and betting on myself until now, so the early response has been great to see.

The timing felt right at this moment for a few reasons. I've long believed there was a hole here locally for someone with access to cover this team in this way. On that note, the organization also has become much more media-friendly following some of the changes that took place during the season. I would have never dreamed of trying something like this if certain people who are no longer with the franchise were still here, for obvious reasons. Between all of that stuff, the team becoming (or at least planning to become) competitive again and the sale to Phil Knight possibly happening in the next year, this is the time to do it.

So far, I'm having more fun doing this than I've had covering and writing about the league in a while—since at least pre-COVID. Granted, there's been a lot to talk about given that I launched this thing the week of the draft, and on day two the Blazers made a pretty significant trade, with free agency to come next week. But I've liked being able to divorce myself from the Take Economy and the feeling that I have to react to every rumor or viral tweet. I'm excited for what this is going to look like once next season gets started, especially since there's a chance us reporters might be getting locker-room access back, finally.

I'm still feeling out the right way to do this—what content do I unlock for everybody and what do I put behind the paywall? I want a lot of what I do to be accessible to everyone, but I also want those of you who have decided my Blazers coverage is worth paying for to feel like you're getting your money's worth. There's going to be a lot of trial and error early on. And if you're a free subscriber, I'd love to hear from you about what kind of content would entice you to upgrade. One of the reasons I was always hesitant to do something like this is I don't love the idea of asking people for money. But given the local popularity of this team as well as how long I've been covering now, it's not a crazy idea to think there are enough people out there who like what I do enough to pay what I think is a pretty reasonable amount of money to sustain it.

The other part of all of this that I'm still figuring out is just getting the word out. I've never been a big self-promoter, and I'm still getting used to tweeting my links out several times throughout the day without feeling like I'm spamming people. That's totally on me to get over that hangup. But if you're reading this, you probably know someone else who would be interested in reading it too. Telling those people in your life to check it out and subscribe helps me—and in turn helps you, because the more people subscribe, the more I'll be able to do with this.
In case you missed it…
My column following the Blazers' decision to take Shaedon Sharpe is unlocked for everybody, while my analysis of the Grant trade is for paying subscribers only.

The second episode of the podcast is out now with Danny Marang, breaking down the Grant trade and Sharpe pick and previewing free agency. Get it on Apple, Spotify or Google Podcasts.

Also, here's a guest appearance I did with John Canzano the day after the draft on his radio show on 750 the Game.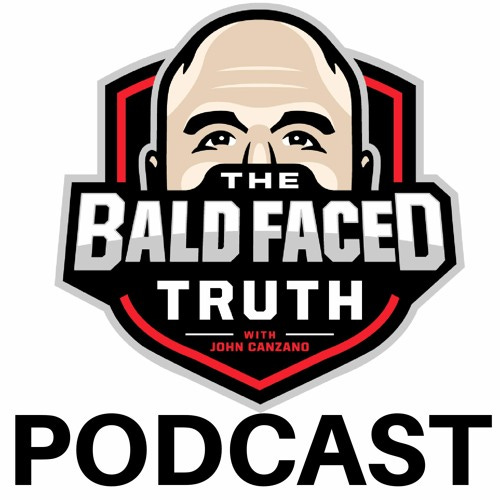 John Canzano talks to Sean Highkin of The Rose Garden Report about the Trail Blazers selection of Shaedon Sharpe with the seventh overall pick in the NBA Draft, the early returns on Joe Cronin as GM,
https://soundcloud.com/kxtg-the-bald-faced-truth/bft-show-sean-highkin-2?utm_source=clipboard&utm_medium=text&utm_campaign=social_sharing