Discover more from The Rose Garden Report
Comprehensive, independent coverage of the Portland Trail Blazers and the NBA from veteran beat reporter Sean Highkin.
Over 4,000 subscribers
Scoot Henderson's Learning Curve Continues in Trail Blazers' Preseason Loss to Suns
Henderson got some off-ball reps in his first game against NBA competition. It's still a work in progress.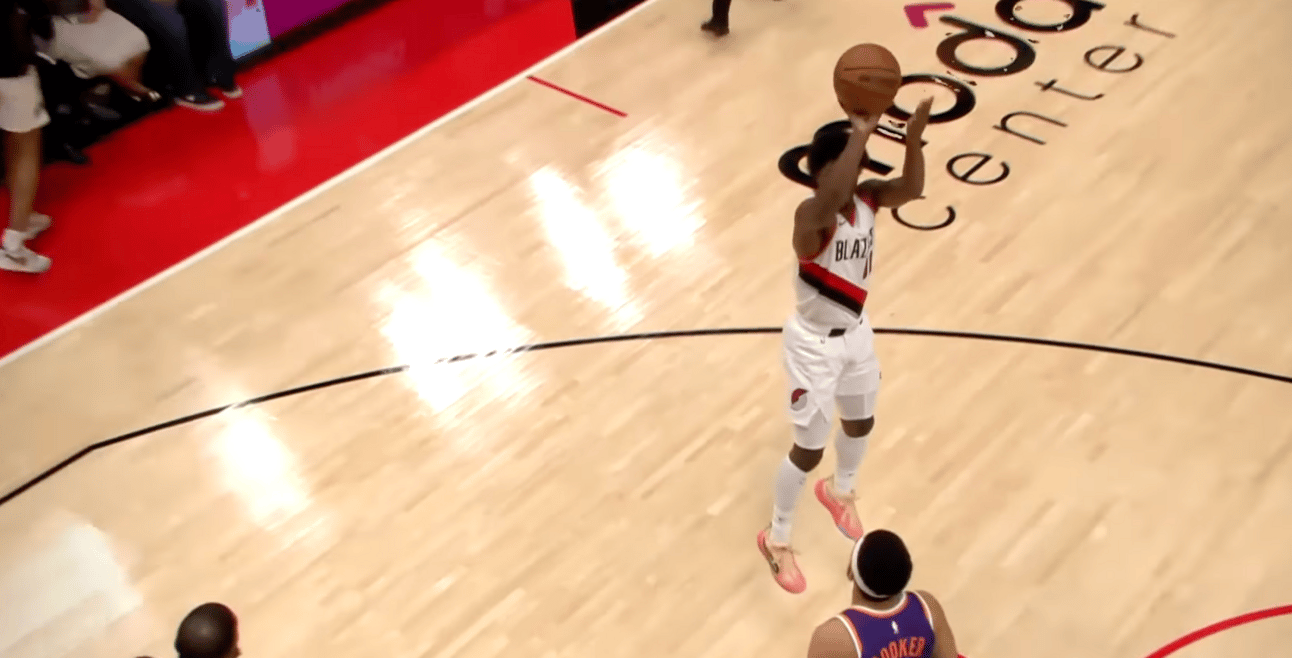 PORTLAND, Ore. — Scoot Henderson is adjusting to a lot in the leadup to the start of his rookie season. The physicality is a step up from the G League competition he's faced for the last two years. He's never played against players as good as Kevin Durant and Devin Booker, who were in uniform for the Phoenix Suns on Thursday. The final score of the Trail Blazers' second preseason game was about what you'd expect given the circumstances.
Henderson also hasn't played off the ball much. That's something he's going to have to figure out how to do in the NBA, even as he's being groomed as the Blazers' point guard of the future. Head coach Chauncey Billups has already started putting him in those positions.
Playing with the other starters—Anfernee Simons, Jerami Grant, Deandre Ayton and, tonight, Shaedon Sharpe instead of Matisse Thybulle—Henderson has been bringing the ball up the floor and initiating the offense, as he mostly did with the G League Ignite. But when Simons subbed out for Malcolm Brogdon midway through the first quarter, Henderson moved off the ball.
"It's something that we've been working on at practice," Henderson said after the game. "I think it's going pretty well. Sprinting to the corners, which is what coaches want. I think it's gonna come around full-circle."
Henderson finished with 22 points on 8-of-14 shooting along with four rebounds, four assists and six turnovers before fouling out after 30 minutes. Both of the three-pointers he made were catch-and-shoot looks, which he appeared a lot more comfortable shooting than the pull-up attempts. Outside shooting has long been one of Henderson's weaknesses, which is part of why Billups wants to get him comfortable playing without the ball.
"It's probably new for him, playing off the ball," Billups said. "But it is what it is. We've got Ant, we've got Malcolm, we've got other guys that can play on the ball. So he's got to get used to it. But it will be an adjustment for him."
In his first two preseason games, the bones of what the Blazers hope Henderson can be are there. He had a few bad turnovers on Thursday, but the playmaking instincts are there. So is the finishing. He competes on the defensive end, even though his size will always be an issue there. Learning how to work with other guards capable of running the offense, like Simons and Brogdon, will be crucial for his development.
"He's a guy that's dominant with the ball in his hands," Brogdon told me on Thursday evening. "But when you get to the league, there are going to be other good players on the team. The more you can play on and off the ball, the more versatile you're going to be. That's something I think he's going to thrive in and it will help his game, playing off the ball and allowing guys like me and some of the other guards to put him in a position to score."
The competition will only get tougher. Henderson played the second half against the Suns' second unit after Phoenix pulled its starters. That's not going to happen once the regular season starts. There's a lot to like about his game already, but anyone expecting him to take the league by storm from day one is probably setting themselves up for disappointment. There's no reason to believe he won't get there eventually, but the preseason has shown that at 19, he still has a lot to learn.
"He's playing against these good players for the first time," Billups said. "It's probably the first time he's playing against players that are better than him pretty much every night, or are bigger or stronger or just as fast."