Discover more from The Rose Garden Report
Comprehensive, independent coverage of the Portland Trail Blazers and the NBA from veteran beat reporter Sean Highkin.
Over 4,000 subscribers
Damian Lillard, Trail Blazers Get a Do-Over on Celebrating Franchise Scoring Record
The Blazers honored Lillard in their first home game since he passed Clyde Drexler. This time, they got a win.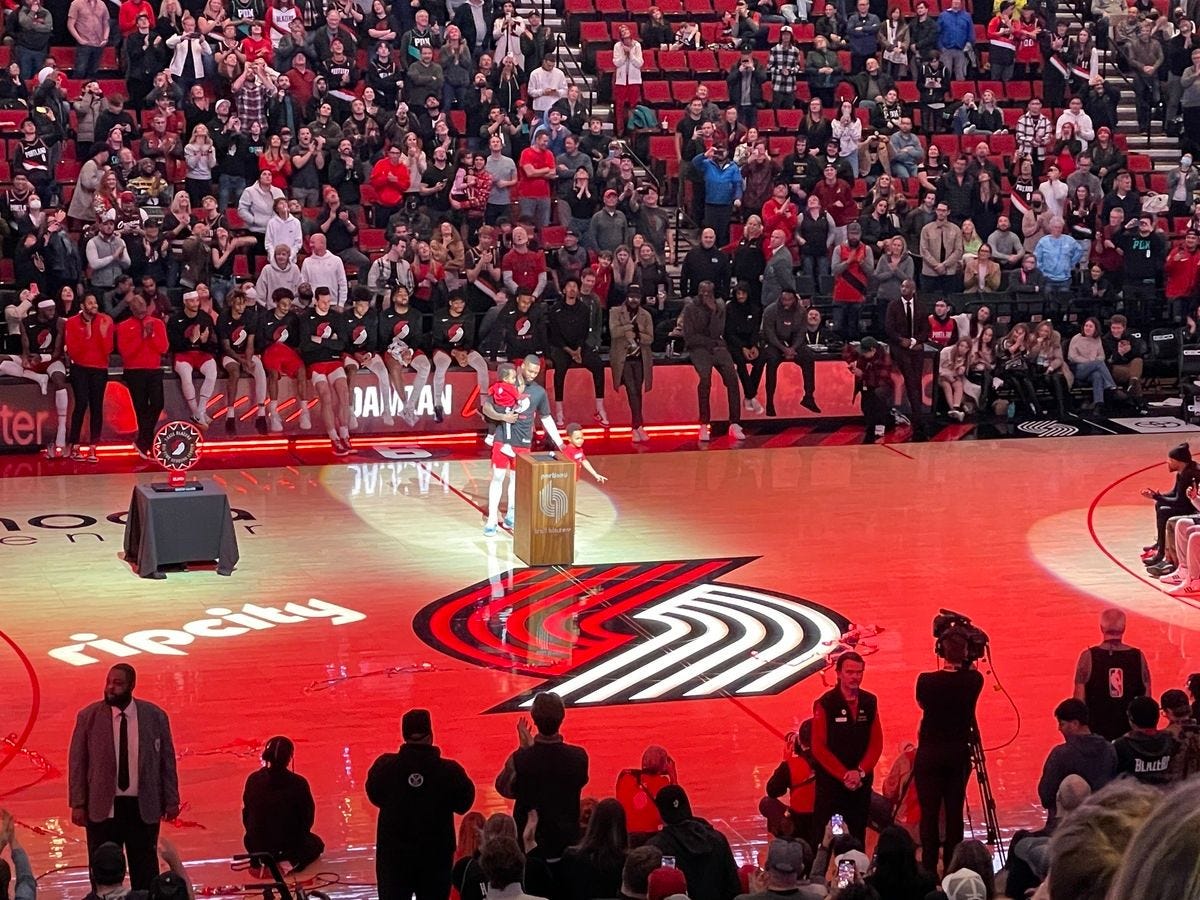 PORTLAND, Ore. — Damian Lillard didn't enjoy the night he passed Clyde Drexler very much.
He wanted it to happen at home, but the schedule fell with the Trail Blazers in Oklahoma City. He wanted to celebrate the record and a win at the same time. That did not happen.
He got a do-over on Monday, in front of his own fans with several tribute videos and a postgame ceremony commemorating his becoming the franchise's all-time leading scorer last week. And he got to do it after a win. The schedule-makers did the Blazers a solid by putting a truly bad Charlotte Hornets team in front of them to take most of the drama out of the result. And after a listless first-half performance that found them lucky to be down six, Portland remembered who they were playing and handled business in the final two quarters, so they could turn their attention guilt-free to celebrating Lillard.
The Rose Garden Report is a fully independent, reader-supported publication. Purchasing a premium subscription unlocks exclusive content and helps make the coverage of the Portland Trail Blazers the best it can be.
Throughout the night, there were several videos during timeouts with different former teammates and NBA peers congratulating Lillard. Evan Turner recalled a time he and Lillard combined for 55 points, with Lillard scoring 49 and Turner scoring six. Will Barton, Tim Frazier and Nicolas Batum put in appearances. The three loudest cheers came for LaMarcus Aldridge, CJ McCollum and former head coach Terry Stotts.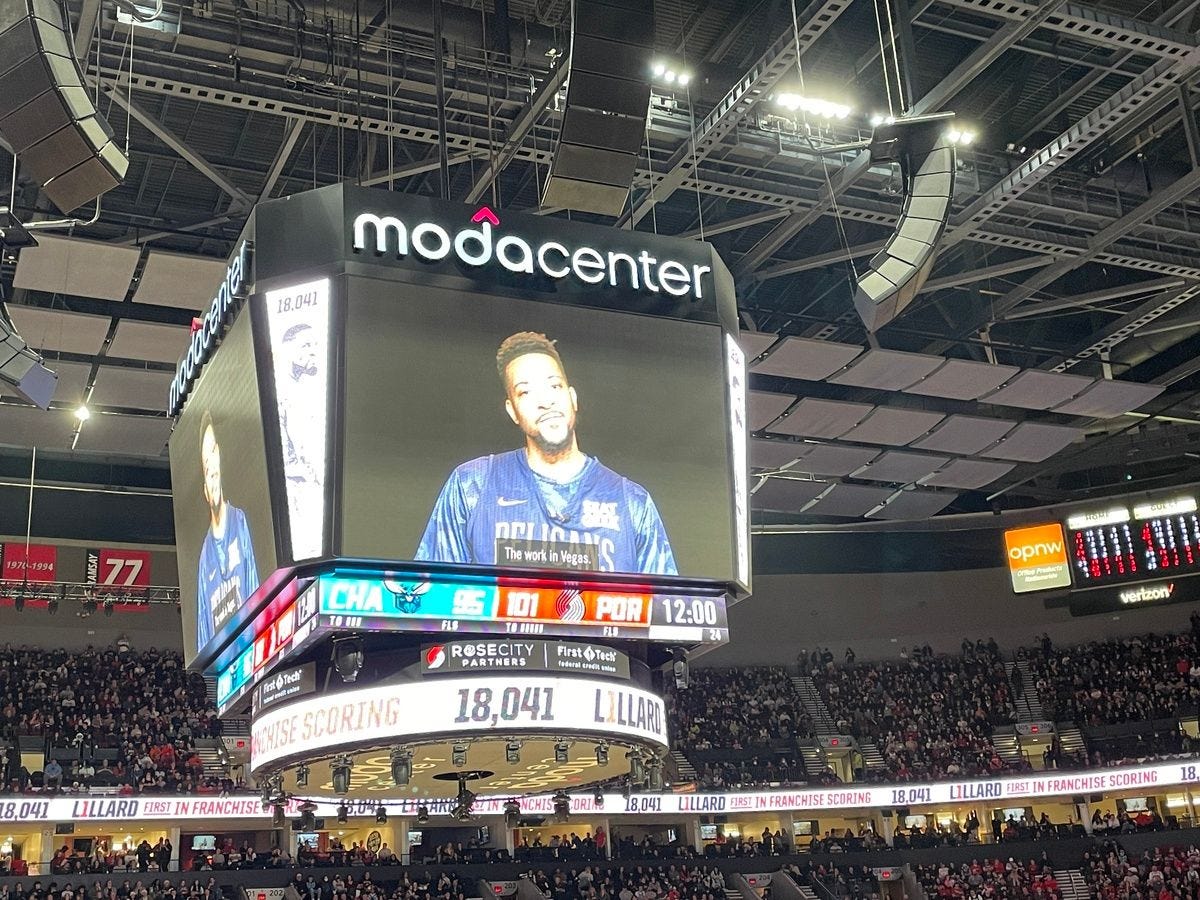 The star of the postgame ceremony wasn't Lillard, and it wasn't the host and emcee, Blazers color analyst Lamar Hurd. It was Lillard's three young children, his four-year old son Damian Jr. and younger twins Kali and Kalii. At one point during Hurd's speech, one of the twins sprinted from the lap of Lillard's wife, Kay'La, over to the lectern and then to a spot about five feet beyond the three-point line where their father has scored many of the 18,041-plus points that put them on that stage.
"That's where Daddy shoots from," Hurd said without missing a beat.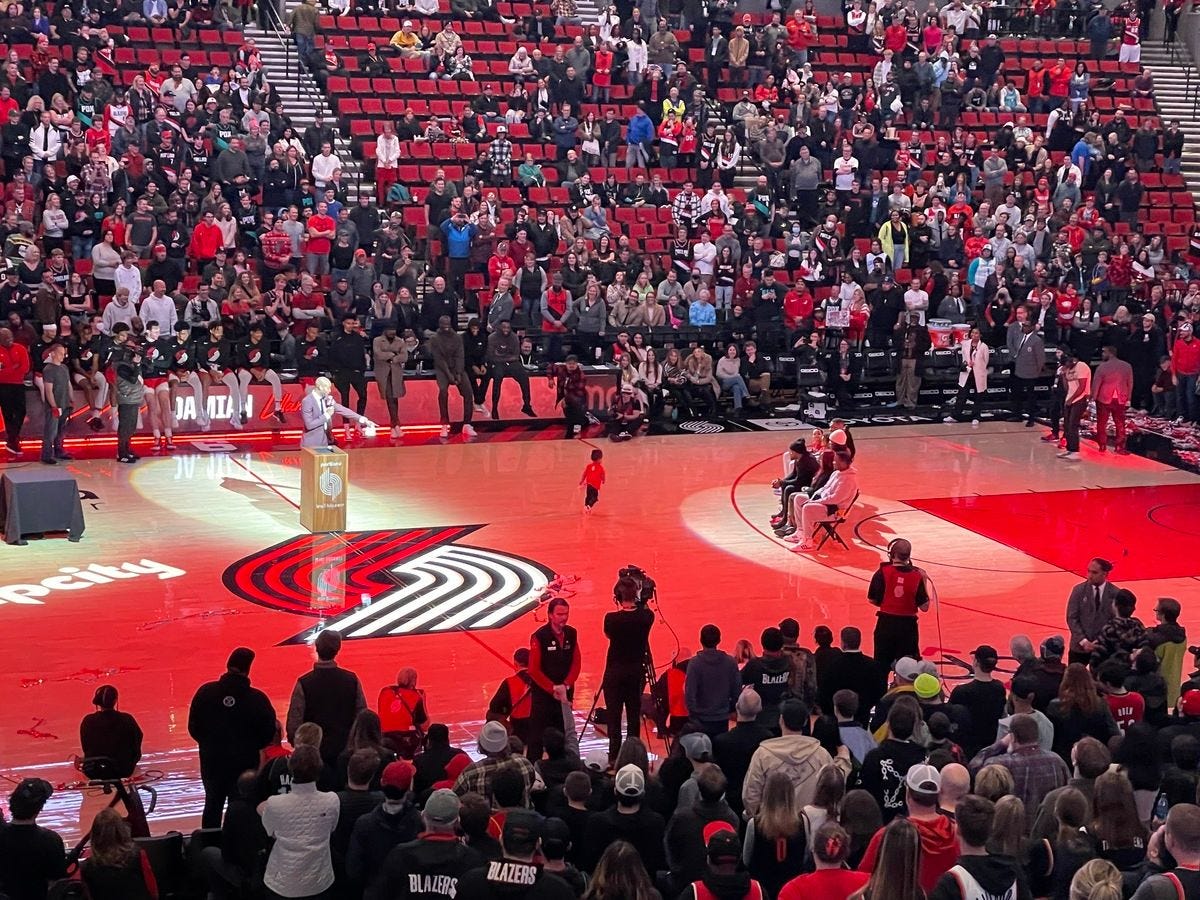 When Lillard got up for his own speech, he did so while attempting to wrangle the kids, eventually just giving up and letting them run around the court while he thanked fans for their support.
Lillard admitted afterwards that he isn't as good with this kind of attention as you'd think he would be with how much he gets.
"I come from an environment where it's never about you," he said. "You look out for people, you have people's backs. You don't search for attention and you don't make things about yourself. I think when you come from that, it just makes things kind of weird when everybody's focused on you. That's why I feel uncomfortable sometimes."
I've covered a few of these types of things before, in my days on the Bulls beat. The two that immediately jump to mind are a home game against the Knicks featuring Derrick Rose and Joakim Noah returning to Chicago for the first time as visiting players, and Dwyane Wade's first game back in Miami as a Bull the same season. After the latter game, Wade called it the "worst" game of his life and said he couldn't be happier when it was over.
Lillard insisted Monday night that he wasn't thinking about it. Maybe he just had an off night—17 points on 5-of-16 shooting and 1-of-10 from three-point range—by coincidence. Chauncey Billups admitted after the game that in last week's loss to the Thunder, Lillard's teammates were forcing the ball to him to help him break the record. This morning at shootaround, he told the team to get a win so they could celebrate it like they weren't able to in Oklahoma City.
They did that on Monday, and the organization delivered, but they have more to do.
"There's only one thing left to accomplish, and I think y'all know what that is," Lillard told the crowd. "We've just got to get this one last thing done, and that will wrap this up and finish the script for me.
What We Saw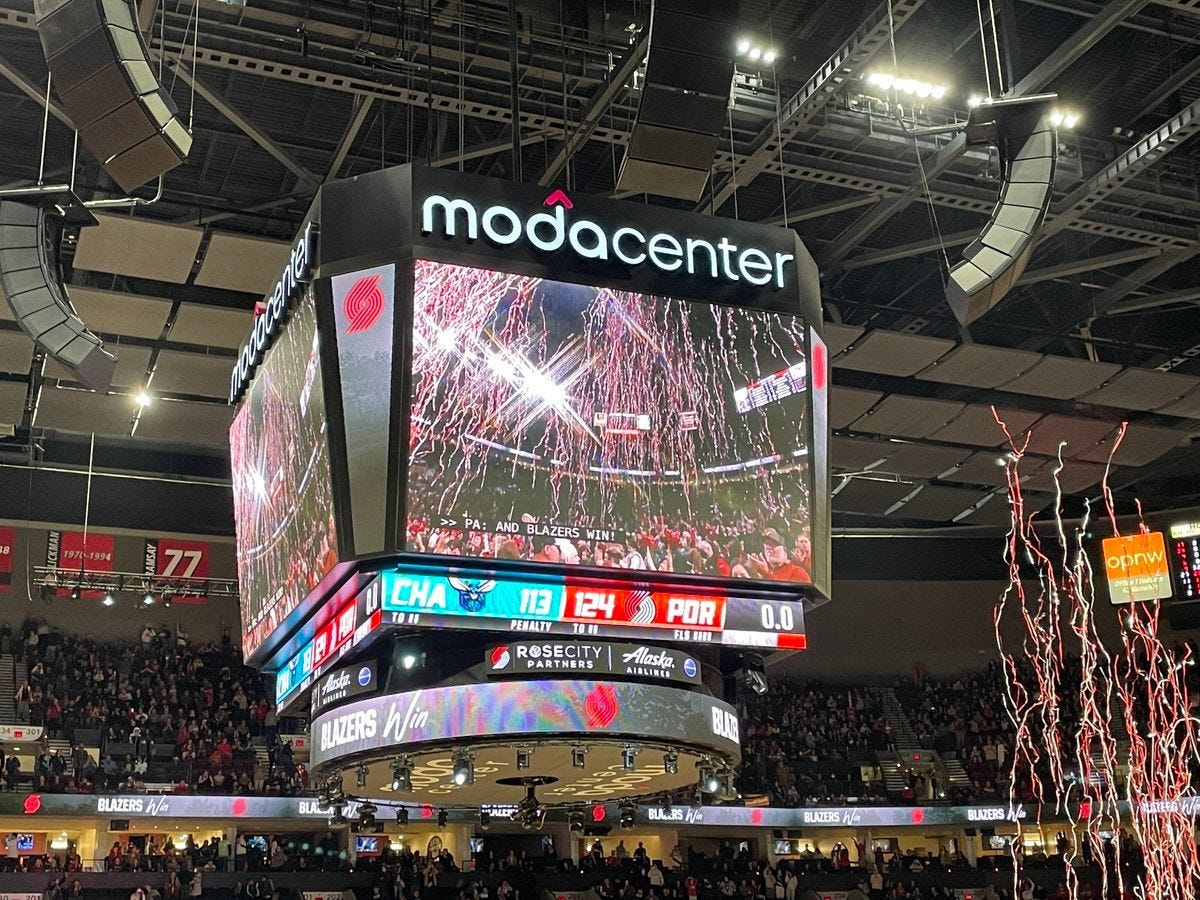 For paid subscribers, notes, thoughts and observations from the game, plus the Jersey of the Night:
Subscribe to Premium Membership to read the rest.
Become a paying subscriber of Premium Membership to get access to this post and other subscriber-only content.
A subscription gets you:
✓ Exclusive articles
✓ Mailbags