Discover more from The Rose Garden Report
Comprehensive, independent coverage of the Portland Trail Blazers and the NBA from veteran beat reporter Sean Highkin.
Over 4,000 subscribers
Blazers Go All-in on Identity With Offseason Moves
Gary Payton II and Jerami Grant were introduced on Thursday.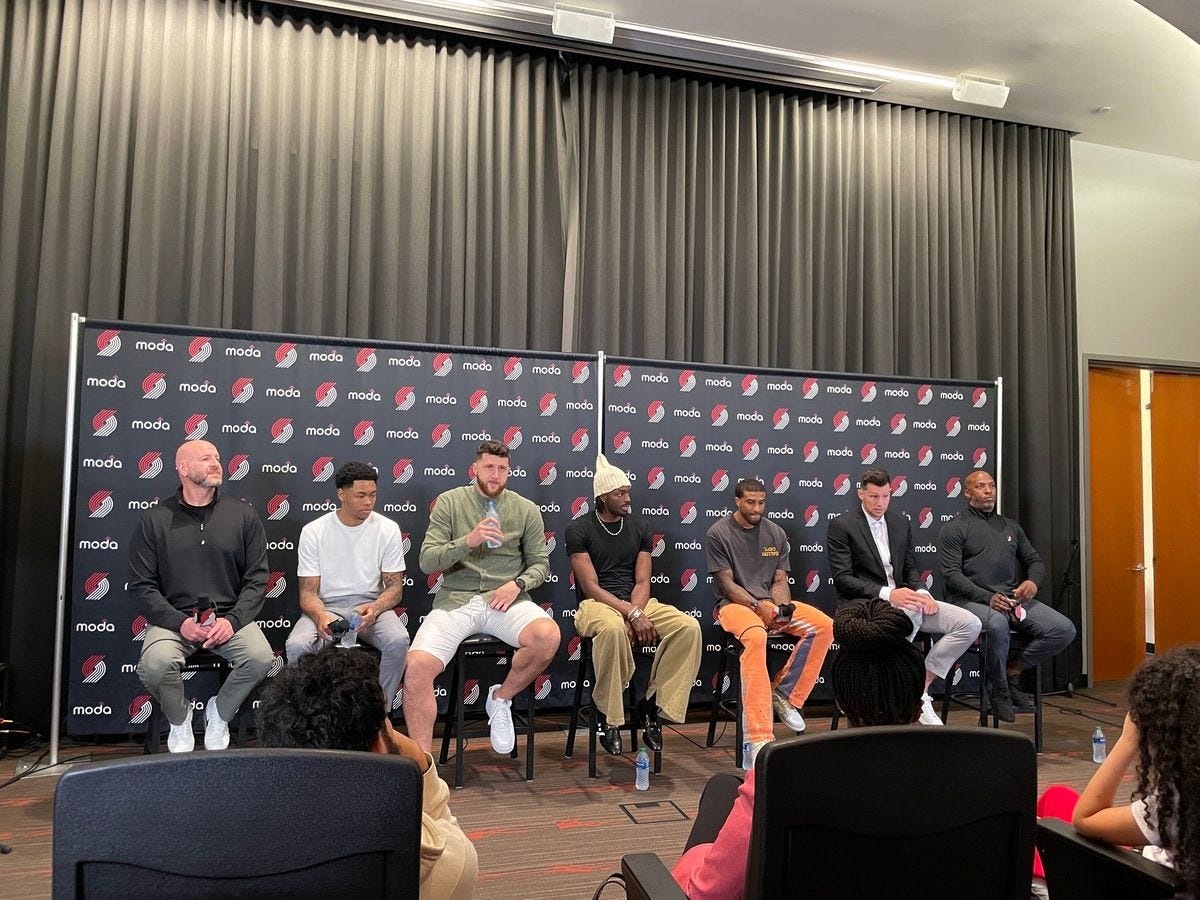 TUALATIN, Ore.—As they've been doing since early December, the new regime of the Portland Trail Blazers stayed on message Thursday: everything general manager Joe Cronin did in his first offseason running the team was about establishing an identity and building a roster that fits the hard-nosed, defense-focused style Chauncey Billups wants to play.
To that end, the team officially introduced this offseason's two new faces, Jerami Grant and Gary Payton II, and the freshly re-signed Anfernee Simons, Jusuf Nurkić and Drew Eubanks this morning.
By Grant's own admission, the possibility of him coming to Portland has been in the works for a while, dating back to his becoming close with Damian Lillard last summer when they played together for Team USA at the Tokyo Olympics. After a late-season game in Detroit, Josh Hart tweeted a now-infamous photo of himself, Grant and Nurkić talking post-game with their faces covered. Hilariously, when the team officially announced the Grant trade on Wednesday, that was the photo they used on their home page to accompany the press release.
"I told him, 'Get your ass to Portland,'" Nurkić said Thursday. "Straight up."
There's a reason the Blazers pursued Grant so aggressively and ultimately got a deal done. On paper, he's the exact kind of big two-way wing the team hasn't had since at least Nicolas Batum, and maybe longer.
"We haven't had that," Billups said. "We need that. Every team needs that. A guy where you can throw him the ball, but he's been a really good player in this league not being the number-one guy, and he just kind of feeds and eats off everything. He can switch everything defensively. I can see putting him in a pick-and-roll with Dame or Ant and having a smaller guy switch onto him and letting him go to work. It's so many things we can do."
On that point: I asked Grant if he was ready to go back to playing a supporting role on offense after leaving a contending Denver team for a lottery team in Detroit in 2020 in part because he wanted to be featured more as a scorer.
"For the first six years of my career, I wasn't that guy," Grant said. "I'm excited to come here and get some wins."
Despite Grant's status as the Blazers' marquee summer acquisition, everyone onstage Thursday seemed just as excited if not more so about the addition of Payton, who is coming off playing an integral role in the Warriors' title run.
Billups called him "my kind of guy," which isn't surprising when you consider the points the coach hammered home relentlessly last season when talking about what he looks for in a player. Billups also praised Payton's perseverance on his career path, going undrafted and bouncing between the G League and minimum NBA contracts for several years before establishing himself as a vital role player on a championship team in Golden State.
"He's found a way to be effective no matter what," Billups said. "Honestly, you look at what he did this year, that Warriors team has been a dynasty, and in one year he found a way not only to get off the mat, but get into the rotation, and then starting in a playoff series for them. So you talk about the trust that Steve [Kerr] was able to gain in him in no time. Those are just the type of guys that you need on a team."
They'll tell you they're not worried about it, but the Blazers' lack of size remains a real concern going into next season. (Nurkić joked at one point that the 6-foot-3 Payton would be his backup.)
Besides Nurkić, no player on the roster is taller than 6-foot-9. Eubanks and Trendon Watford are the de facto backup centers; neither one is really a rim protector. And Nurkić, as impactful as he is when healthy, hasn't played more than 56 games in a season since the leg injury he suffered in 2019 that kept him out most of the following season. If there's one area they still need to address, it's that.
Cronin downplayed those concerns when asked about them on Thursday.
"The way we've turned this roster over, we've been looking for a specific type of player, regardless of their height," he said. "The roster's probably not perfect as far as distribution as of now, but we'll continue to tinker with that and look for opportunities. But at the same time, we're going to evaluate our team, too, and be patient and let them grow together. If we need to make small changes, we will.
"But I don't think we're any means worried about lack of size. We care more about heart and who plays big."
Stray thoughts…
I asked Cronin if he's done making moves after signing Payton and trading for Grant. He said he feels good about where the roster stands and believes it's "a really solid core," but also that they're "not content" and will continue to look for upgrades on the trade market.

On that subject: In addition to making all the signings and trades official yesterday, the Blazers waived Eric Bledsoe, whose salary was only $3.9 million guaranteed if he was waived by July 10. As things stand now, it would have been very difficult for them to use that salary in a trade to take back similar money. Because they used more than the non-taxpayer mid-level exception to sign Payton, they are now hard-capped at $157 million and had to waive Bledsoe to get under that number. They're still a few million below that line and could add another player via one of their trade exceptions or the biannual exception. Between these limitations and Cronin's non-committal comments on future upgrades, it's safe to expect them to be mostly done.

Former Oregon State teammates Payton and Eubanks seemed pretty excited to be playing with each other again. "It's really cool," Eubanks said. "We did something special in Corvallis when we went to the Tournament. We're trying to do something special here, too."

I wrote and posted this story while on a flight to Las Vegas, where I'll be covering Shaedon Sharpe's Summer League debut tonight. I'm just as interested to see how he looks as the rest of the NBA world will be. Sign up for a premium subscription below to get all my coverage from the event over the next few days.
In case you missed it…